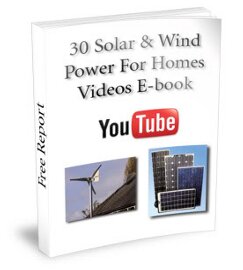 Are you concern about rising energy costs?
If you are a home owner, one of your largest monthly expenses is your electricity bill. It is second only to your home bank mortgage.
Are there any ways to reduce your home power consumption? One practical solution is to use renewable energy sources such as solar and wind energy.
Engaging a professional contractor to build a solar module or wind turbine can be quite expensive. Alternatively, you can save a lot of money by setting up the system via Do It Yourself (DIY) approach.
To get you started, we have compiled a series of 30 Solar & Wind Power For Homes Videos e-book. It's free! All you have to do is enter your name and email in the form on top to download it.
Don't worry, we value your privacy. Your details will not be shared. We hate spam too!
We will only send to you information related to home renewable energy system such as solar power and wind generator. If you don't want to receive the information, you can unsubscribe anytime. We're cool about it.
Lets Go Green!
'Will Yap
==> Click here to go back to DIY Solar Homes Blog